Services Portal 2.5 Release Notes
These release notes describe the new features and enhancements for Services Portal applications (QTRACS, Performance Monitoring, Trailer Tracks, Fleet Mapping, GeoServices, and Administration) in Services Portal 2.6, which released in the U.S. in early 2015.
For previous release notes, click here.
System Requirements and Upgrade Information
Supported browsers
Services Portal applications (QTRACS, Performance Monitoring, Trailer Tracks, Fleet Map, GeoServices, and Administration) are supported fully on Microsoft Internet Explorer versions 8, 9, 10, and 11. You may experience minor display issues in MSIE 8.
Firefox and Chrome are tested and supported.
No other Internet browsers are tested.
Clear browsing history
It is recommended that you clear temporary Internet files (browsing history) before you log in for the first time after the upgrade. The browsing history delete utility is found on the browser's TOOLS menu or on the INTERNET OPTIONS pop-up window, GENERAL tab. In Chrome, click the Customize and control Google Chrome button and click History, then click Clear browsing data.
Desktop Notifier Client Application No Longer Supported
Remove old desktop notifier
The old Desktop Notifier client application is no longer supported and has stopped working. You must uninstall it and begin using the Browser Notifier window that was released in fall 2013.

New Browser Notifier
The new Browser Notifier window should open each time you login.

If it does not, go to your alert preferences and set any alert level to "Receive in Notifier window."
New Reports Functionality
The process to request and view reports improved within Services Portal applications and provides you with a more convenient process. These changes include:
The ability to continue working while the reports are generated
A new reports window accessed from Services Portal banner, which contains the status of all requested reports.
Improved Productivity
Previously, some report requests prevented you from using the application while the report was processing. In this release, when you request a report you see a confirmation in the upper, right corner of the page. If the report fails, you see a failure message where you submitted the request.
You can request up to five reports at one time. As soon as you successfully submit the report request, you can continue working and are notified when the report is ready.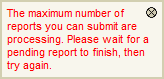 The successful submission message automatically closes after 10 seconds or you can close it. The report request failed popup does not close automatically to ensure you know the report request failed.
Viewing Reports
The Reports window is accessed by clicking the Reports link in the banner. This Reports window replaces the Report History tab that appeared in the QTRACS and Performance Monitoring applications.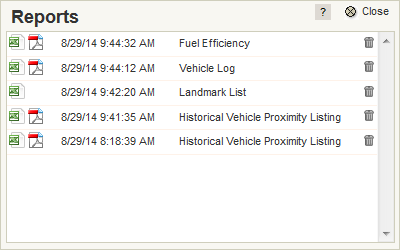 Click to open or save a CSV version of the report
Click to open a pdf version of the report
Or click to delete the report.
<![CDATA[ ]]> means the report is processing
<![CDATA[ ]]> means the report failed.
A
appears next to the Reports link in the header when new reports are ready. You are also notified through an alert in the Browser Notifier. Performance Monitoring reports automatically generate a low priority alert when complete. Reports in the QTRACS application have an option to send a low priority alert when the report is complete.

Reports and alerts are automatically deleted after a specified number of days. These settings can be changed in Administration> Company Settings> General> Company Preferences.
Enhanced Cellular Communication in Canada
Beginning in 2015, Omnitracs will make hardware adaptations to allow for future continued use in Canada due to pending changes to Canadian cellular coverage (vehicles not travelling in Canada require no change). In response to this, Omnitracs will be making available a hardware upgrade for MCP devices that supports both the current and new technology and changeover newer devices sales to allow for both technologies as well. Contact your Omnitracs representative for more details. In the QTRACS application, the vehicle list and vehicle details are enhanced to identify and track MCPs that support the new technology (Enhanced Cellular Communication) or vehicles that already have satellite communication capability.
You can now filter vehicle lists based on enhanced cellular communication and satellite capability and can view a vehicle's enhanced cellular communication and satellite capability through the About Device tab in the vehicle details panel.
Here is what the new filter in the vehicle directory looks like: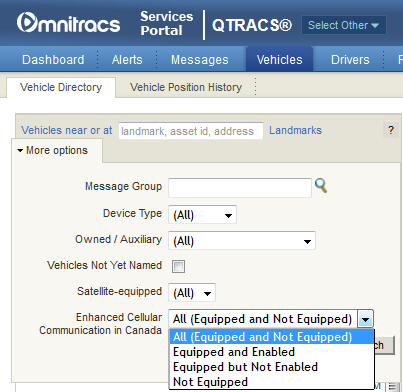 The Satellite-equipped drop-down list lets you filter by all vehicles, vehicles equipped with satellite communication capabilities, or vehicles not equipped with satellite communication capabilities.
The Enhanced Cellular Communication in Canada drop-down list has four filter options:
All (Equipped and Not Equipped) – All vehicles, regardless of the vehicle's ability to communicate in Canada.
Equipped and Enabled – Vehicles with enhanced cellular communication capable hardware that has been enabled.
Equipped but Not Enabled – Vehicles that have been equipped with enhanced cellular communication hardware but have not been enabled.
Not Equipped – Vehicles that have not been equipped with enhanced cellular communication hardware.
The About Device tab in vehicle details now has fields to indicate if a vehicle is equipped for satellite communication, whether a vehicle is equipped with enhanced cellular communication hardware, and if that hardware is enabled.

Other Enhancements
Suspend Landmark Notifications
Services Portal now provides a suspendLandmarkNotification web service that allows companies who subscribe to Trip Manager to temporarily suspend (and later resume) GeoServices notifications when an asset (a vehicle or trailer) arrives or departs a landmark.
These notifications may be suspended for a specified landmark/asset pair only. For example, notifications may be suppressed when TRUCK10 arrives at shipper landmark AcmeStore#17. However notifications would continue for any other landmark that was arrived/departed by TRUCK10. In this way, Trip Manager can take responsibility for arrival/departure notifications for all landmarks on a Trip Plan while preventing GeoServices from also notifying you through email or ESS.
Filtering of Near-Duplicate Position History
New filtering logic was implemented to ignore positions that are considered near-duplicate.
A vehicle position report will be discarded prior to posting if it meets the following criteria:
It is not an 'enhanced position' (also known as a 'high-frequency position')
it has no valuable association with an event such as a being tied to a QTRACS message
A position is within 10 seconds of a previously stored position provided that the ignition and trip status haven't changed OR a position is within 10 minutes of a previously stored position provided that the ignition and trip status haven't changed and it's within 50 feet.
In this way, a near-duplicate position from a vehicle is dropped if a position has already been stored for nearly the same time or if the vehicle is parked.
This new filtering logic has been enabled for all customers unless you have more than 10 vehicles with a MIPR set below 15 minutes.

Fixes
The following fixes were included in the Services Portal 2.5 release.
Trailer Tracks
Latitude and longitude coordinates now correctly convert to DMS format when establishing geofences. Accurate coordinates are no longer rejected.
Fixed an issue where the location field in the trailer details, history tab sometimes cut off the end of longer locations.
Updated the image used to represent a landmark in the trailer list from a black arrow to the Fleet Map landmark icon .
QTRACS software and miscellaneous
As new devices come on the air and communicate with the host for the first time, the host now recognizes situations where it needs to automatically retrieve certain NMC-configured device parameters. Doing so ensures that the device parameters are displayed with the latest/correct values on the vehicle details panels.
When creating or editing macros, the Insert/Update a Label field no longer overlaps the text in the Specify Mode field. This was previously only an issue in IE 9.
Fixed an issue where a few QTRACS application buttons did not work properly in Chrome. The buttons fixed were: reassign vehicle message group, reassign vehicle coverage, vehicle position history, and set up (return) macro
Fixed an issue where the vehicle position history was not properly filtering timestamps for Colombian users and others with non-standard browser locales.
When editing macros in Template Builder Mode, a blank line is no longer inserted on the screen for macros of 35 or more characters. This was previously only an issue on the display and the blank lines were never saved into the actual macros.
Performance Monitoring
MCP200 units now display actual values for short and extended idle times instead of N/A when you view a vehicle's performance.
Administration
A new permission was added to the HOS section when creating or managing roles to allow users to maintain e-mail alerts.
A new permission was added to the Navigation section when creating or managing roles to allow users to use the Lane Shaper tool in NaviGo.
Integration
Added an option for companies that use enhanced positions to resend email notifications with adjusted timestamps when GeoServices detects that a truck or trailer arrived at or departed from a landmark earlier than what the QTRACS or Trailer Tracks applications are showing. Contact your customer service representative to enable this option.
Previous Releases