Services Portal 3.5 Release Notes
These release notes describe the new features and enhancements for Services Portal applications (QTRACS, Performance Monitoring, Trailer Tracks, Fleet Mapping, GeoServices, and Administration) in Services Portal 3.5, scheduled for U.S. release in fall 2019.
For previous release notes, click here.
QTRACS Support
Tighter Validation of Driver Login Passwords
The Services Portal continues to introduce tighter driver password validation requirements. With this release, embedded spaces are no longer permitted, and a minimum of 4 characters is required.
Stricter requirements will become increasingly important as customers choose to migrate or sync existing data from Enterprise Services to Omnitracs One.
Users do not need to edit historical data to meet these restrictions, but the rules will be enforced as customers add and edit vehicles.
IVG Satellite Support
Satellite communications capability for the IVG device will soon be commercially available. As part of this capability, new host functionality will be available to users when vehicles in their fleets become equipped with IVG Satellite devices.
Satellite-Equipped Designation and Component Version Information
For satellite-equipped IVG devices, the satellite modem's component version information is sent to the host over the existing CI channel and displayed under Version in the About Device tab in QTRACS (Vehicles > Overview tab). The information is displayed similar to that of satellite-equipped MCP100s/200s:

The existing Satellite-equipped attribute under Hardware is set to "Yes."
The version information for the IVG satellite-equipped component is displayed under Version (similar to the existing MDM components shown for satellite-equipped MCPs).
Directory Filtering
Users can include or exclude vehicles with satellite-equipped IVGs as needed using the existing Satellite-equipped filter in the Vehicle Directory: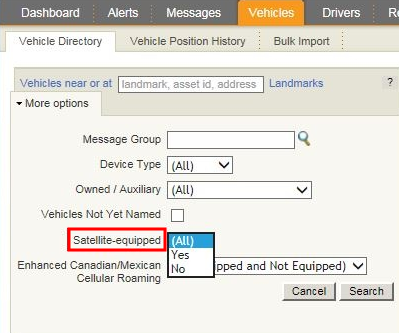 HOS
Admin Permission
A new administrative permission is now available for user roles in the Hours of Service section of QTRACS. The Can Transmit and Trace ERODS setting allows administrators to control who can send eRODS to the FMCSA and review the status of the transfer request.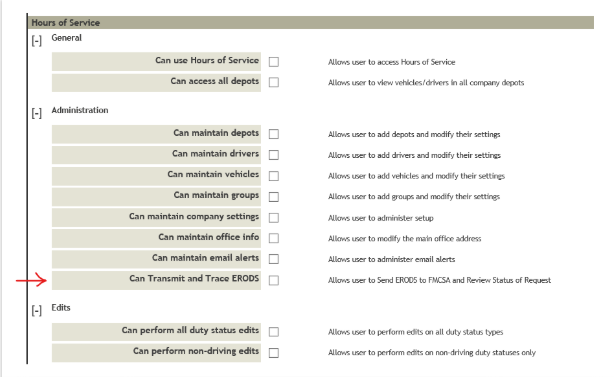 Fixes/Minor Enhancements
The following fixes and minor enhancements are included in the Services Portal 3.5 release:
The Edit Global Groups pop-up window now shows the correct message if no global groups exist.
Minor edits have been made to improve the display of foreign language translations.
The latitude/longitude coordinates for Boggy Creek, MB, have been corrected so references to it are displayed correctly.
Previous Releases